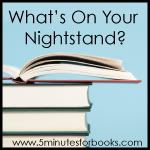 Splendor: A Luxe Novel by Anna Godberson
Final book in this series of historical novels. I love "living" in historical novels. They are the best nightstand books!
Leviathan by Scott Westerfeld
Historical? Maybe. Fantasty? Sort of. I'm loving it so far!
Syren by Angie Sage
I am a fan of this series but I am having trouble getting through this one. It has been on my nightstand for awhile!