[C.R.A.F.T. stands for: creating really awesome free things ]
I am so excited to switch places today with Julianna!
I am lovin' her fabric necklaces!
So, here is a
little
about me:
1: I have made 3 quilt tops (and feel really proud of myself!)
2: I don't really like rulers.
3: I love crafts out of recycled materials and everyday objects.
4: Traveling and fried okra make me happy.
5: When I wear socks, I always wear 2 different colors (this is because I am lazy and never put my socks together, I just throw them all in one big drawer :)
C.R.A.F.T.
hosts a
little
party
every
Monday
called: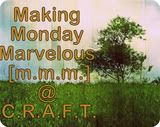 Since Father's Day is just around the corner...I am going to share a sweet and simple Google inspired Father's Day card!


C.R.A.F.T. # 51: Father's Day Card
[I actually made 2- my and the bf's dad!]
I used 2 note cards, skinny markers, card stock, and a black pen...

this one was

pretty easy!
I actually googled "World's best dad" and tried my best to copy the page exactly!:)
[my dads name came up in the first 3 spots of the google search for world's best dad!]
If google says so...it

MUST

be true :)
The hard part is going to be tracking down all the siblings to sign it!
HERE are 51 more C.R.A.F.T.'s to check out :)
Thank you Julianna for switching places with me for the day!!