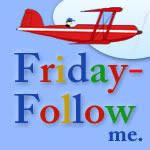 Thanks so much for stopping by! Are you thinking of following?
Here's what you need to know!
I am a children's librarian and mom of two little ones. They keep me very very busy! You can expect the occasional book review and mommy blog post!

Mostly I write about crafting...

I learned to sew recently and have been sewing like crazy! I've started a series of posts called $30 Wardrobe Budget. It's been such fun!

Wednesdays (starting next week) I will be swapping blog features with other Etsy shop owners and bloggers.

Thursdays is my day to highlight an item from my own shop, Belle Rose Designs.

Fridays are Featured Flower Friday here at Singing Three Little Birds. Scroll down to see this weeks amazing flower craft projects!
That's it! Thanks so much for following!