Please welcome Mindie from Bacon Time with the Hungry Hypo to
Flower Week!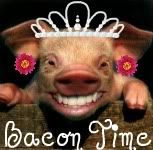 Hi am so excited to be here today with you all. My name is Mindie May Hilton and I am the blogger behind Bacon Time with the Hungry Hungry Hypo. That's me the hungry hypoglycemic with my 3 favorite boys.
If I am not chasing after my boys I am blogging, cooking, or crafting. I recently shared on my blog a rosette necklace made out of old stained baby clothes. Then I made a rosette for a garter that was something old, new, and blue. A special gift for a friend getting married. Both are pictured below.
Well there are a ton of rosette tutorials out there on the web and I am even finding more then one way to make them. This post however is inspiration for you to up cycle old fabrics for rosettes. Think about how when using keepsake fabrics like old baby clothes a simple rosette can become so much more special. Not to mention a wonderful economical & earth friendly up cycle project. So today I am going to show you my new frame that I have decorated with rosettes made from more old stained baby clothes. Of course I cut around the stains for the rosettes. Now I have a frame to hold pics of my youngest little guy that has sentimental value. The frame only cost $1 from the dollar store and all I had to do was glue the rosettes to the glass.
So think about those old kids clothes, maybe some old passed down linens from a loved grandma that don't fit your taste but have sentimental value, these items would make great rosettes and live to serve a new purpose. I hope this inspires you to give something old a new life. I also hope you will stop by my blog and enter a new 3 ITEM Free Give Away I am having.
Thanks again for the invitation Julie, it has been a blast!