L-O-V-E from Artistic Letters
I was recently introduced to Artistic Letters. I will be doing a giveaway in a few weeks of these amazing letters.
I have to say I'm in love with them. These letters are awesome! They are easy to download, and the options are endless.
Take a look at what I made with these letters.
After you chose the letters you want (and believe me you'll have plenty of options), print them off using your computers. You may need to resize them according to your project's needs but that is simple to do. I copied my images into Word and resized them there.
Cut out your letters and line up them up on your blocks.
Explain to your two-year old that he can't use scissors. Poor thing. I'm so mean, right?
Use your Mod Podge to adhear your letters to your blocks.
While you are waiting for your Mod Podge to dry, supervise your 4-year old creating her own masterpiece. Glitter glue is always a hit!
I decided I wasn't a fan of the plain wood so I got out some acrylic paint and did a light coat of white on the blocks. I liked it much better and I really liked how they look on my window. 
I'll be linking to here:
http://todayscreativeblog.net/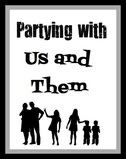 And more in my Linky Parties tab!