Italian Ham, Egg, N Swiss Garlic Panini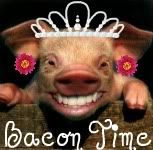 I am going to share one of my new favorite paninis with you today, but first let me tell you just a bit about myself. I am a hungry hypoglycemic who loves to cook. Through living a healthy balanced lifestyle, I very rarely if at all feel sick. When I am not chasing after my two rambunctious little boys, I enjoy blogging, sharing recipes, crafting, and designing for my shop
TLC Creations
. I graduated from CSUB with a major in Liberal Studies and minored in Fine Arts. I was lucky enough to take second place in a recipe video cooking contest held by Johnsonville sausage, competing with almost 1500 other chefs. You can find one of my latest recipes published in a new cook book in association with Kraft foods and Paula Deen for the Real Women of Philadelphia. You can also find me at Busy Mom's Tips where I contribute a weekly article on menu planning. Ok, enough toot toot tootin my own horn, I just wanted you to know that I am really passionate about what I share on my blog.
That's me with my favorite boys.
During the summer my panini grill lives on our kitchen counter top. I absolutely love grilled pressed sandwiches. They are quick, easy, and don't require heating up the house with your oven. I have made several different varieties of paninis, in fact my husband calls me the panini queen. Here is my newest creation. I love this one because it is appropriate for breakfast, lunch, or dinner. The garlic sourdough, garlic and herb mayo, and garden vegetable cream cheese make for an unexpected yet tasty combination.
Ingredients: For One Large Panini
Two Slices of Garlic Sourdough Bread
11/2 Tbs Garden Vegetable Cream Cheese
2 Extra Large Slices of Swiss Cheese
2 Slices of Deli Ham
1 Fried Jumbo Egg
3 Thin Slices of Tomato
1 1/2 Tbs Kraft Sandwich Shop Garlic and Herb Mayo Reduced Fat
Directions:
Fry egg in a non stick frying pan, I used a non stick extra virgin olive oil flavored spray. I kept the yolk slightly runny.
Preheat your panini press to 425 F degrees. Take one slice of bread and spread on your cream cheese. Then add 1 slice of Swiss, ham, egg, tomato, 1 more slice of Swiss, and your last slice of bread that you have spread mayo on.
Press and grill for 1 to 2 minutes or until you have nice grill marks and cheese is melted. When you press your grill down some of the yolk might run out of the sandwich. That is the moment you realize you are in for a special treat. Don't worry, most panini makers are made to be non stick, the yolk came right off with the sandwich for me.
I know I had mentioned a dessert, but we had this tonight for dinner and new I wanted to share it on the blog, it was a hit.
Let me know what you think. If you could also let me know when you post that would be great so I can let my followers know to go check your site out. Thanks again. Mindie Hilton
I know what you are thinking, that's a big sandwhich, and yes, I did eat the entire thing. Of coure if you were serving some type of side dish with this, one sandwhich would feed two.
Well I have really enjoyed sharing this recipe with you all today. I sure hope you will stop by and see me at
Bacon Time with the Hungry Hungry Hypo
. It's not all bacon, trust me. You will find lots of crafts, desserts, fashion, and give aways on my blog. I hope to see you soon.