Please Welcome Abby from I---Create today with a great tutorial!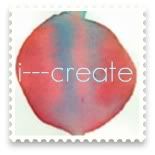 I am so excited to be here today and share one of my all-time favorite crafts with all of you. Thank you so much for having me!
These clothespin flower magnets are very cute and fairly quick to make! They are great for hanging up artwork on the fridge or (dare I say it) lockers at school. From start to finish to make 3 will take about a hour.
Here's the tutorial!
Step 1: Paint the tops of the clothespins. I had to do 3 coats of white before they were opaque.
Step 2: While the clothespins are drying, cut out 9 circles of fabric. They should be about 1 inch wide. (the cap I am using is from a large tide bottle)
Step 3: Fold the circle into quarters
Step 4: Put a dab of hot glue onto the clothespin and press the petal down. If it pops up like it did in the picture, just place a little hot glue on top of the petal and press it down.
Step 5: Repeat the petal process until there are 4 petal on the clothes pin. Next, add a second layer of petals and place them as shown in the picture.
Step 6: Make the center petal as shown in the picture and place it in the middle. Make sure you have a large portion of hot glue in the center before you place this petal. Aren't these flowers getting cute!?
Step 7: Add a magnet if you like. My magnet is from a large roll of magnetic tape. You can buy it at a craft store for under $5. Magnet dots would also work.
I hope you enjoy making these and thanks again to Singing Three Little Birds for having me!
P.S. Here are some more of the magnets I made. Some would say I have an obsession! :)